Food Service Eggplant Fries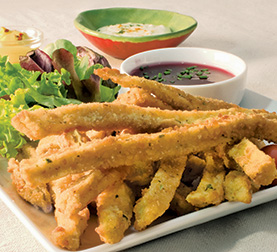 Dominex Eggplant Veggie Fries offer a great tasting solution to boring potato fry. By using fresh eggplant and our signature Italian style breading (also available in Whole Wheat breading), This product is versatile, quick to prepare and always crunchy! Add a side of dipping sauce or use as the base ingredient in a twist on nachos!
Contact us to request a sample.
Download Detailed Product Information (PDF)
K-12 Food Service Fries (PDF)
Fry Appetizer Ideas (PDF)

Saves Time & Money
1.
Freshness
Our Eggplant is vine ripened and prepared within days of harvest
2.
Quality
High quality production standards mean a consistent finished product ready for your use
3.
Competitive Pricing
Our packaging configuration is perfect for scalable preparation and competitive pricing
Food Service Products
By Dominex Natural Foods